We are packing and oh so ready to go! Reservations, CHECK! E-tickets printed, CHECK! City Pass purchased, CHECK! CHICAGO, HERE WE COME! B and I are so excited! This is our first time to the Windy City, geez I hope it's not windy! We are starting of the trip with The Taste of Chicago, followed by a Cubs vs. White Sox game! B is so excited to see the Cubs play at Wrigley Field and I have to admit, I REALLY want to see this stadium! Also on our agenda, celebrating the 4th at Navy Pier with fireworks, an architecture cruise, Shedd Aquarium, Museums, Hancock Observatory and the list goes on!

B has researched and helped so much in the planning of what we are going to do in our 4 days. I'm in charge of the packing list and all the organizing. I really love planning and making sure everything is in order, I thrive on this There is one downfall to this. You see, B will tell me I did a great job planning and getting our schedule in order, (I have a folder with all the confirmation numbers, tickets printed, directions, etc) I am organized! But the risk I am taking by being in charge, is that I am going to be responsible during the first sign of trouble! If there is a missed train or we end up in Milwakee, I'm going to hear it! I'll just plug my ears.
Ok so we are total food lovers and know that we are going to eat our way through this city! Everyone keeps recommending restaurants, hot dog stands, and pizza joints...good thing we have been eating good and working out all week! Another plus, we will be walking - a lot.
I'm excited to spend th
e 4th is one of the most American ways possible. I'm thinking a festive outfit, maybe some red white and blue junk we buy form street vendor, a ride on the Ferris Wheel, watching fireworks,
all while holding my B's hand and being in his arms. Gosh, I can't imagine a better trip and there is literally no one I would rather spend it with. Gosh, I am a lucky girl!
Below is a little sneak peek at my suitcase.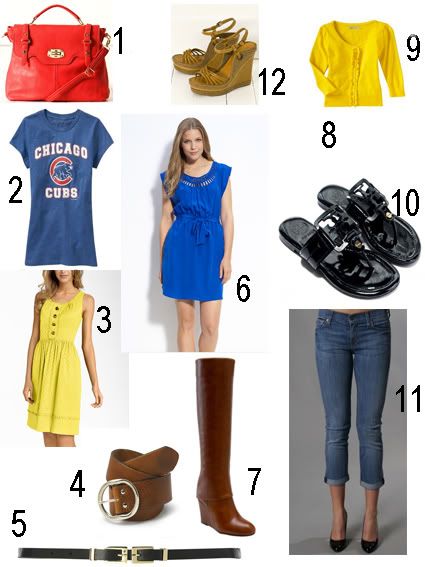 This wardrobe is a little tough because I live in Phoenix. Phoenix is HOT, no, more like a burning dry oven. So, with that being said, I am not too familiar with humidity. The weather report says the high is 80's. I will be cold. I know, ridiculous, but I am always cold. My dilemma is the humidity, is it going to make it feel warmer? Ahh! I think I am packing dresses and flip flops as well as boots and sweaters. B is so lucky he gets to help with my suitcase. :) Oh and he bought us Cubs shirts, mine is above, cute, right? He did a good job picking out a girlie fitted shirt and it has that vintage look to it.
Oh, and one last thing! I almost forgot, I am very very curious about fireflies and I have NEVER seen them. Ever. So last year for our anniversary B gave me the cutest fake fireflies in a mason jar. They are on little leaves and light up real bright, then dim down and flicker. Sweetest gift ever, I loved them and the thought of it. I checked for fireflies in Chicago in July and I have to say, my chances are pretty good this time of year.