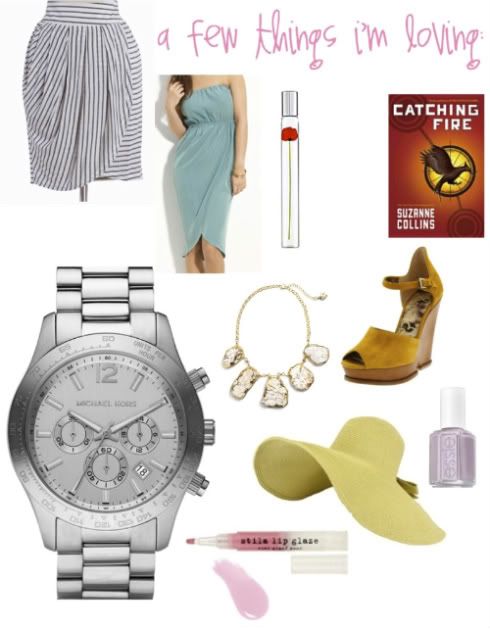 Flower by Kenzo (Travel Purse Fragrance): Sephora
Catching Fire: Book 2 in the series
Michael Kors watch: Norstrom
Gold and white stone necklace:
Nordstrom
Stila Lip gloss in Grapefruit: Ulta
Sun Hat: Dolce Salon and Spa
Essie in missmatched: Ulta



On another love note....
I'm planning on sending a little love in the form of a care package to my baby brother. Well, he's not exactly a baby, he's starting high school, yes high school - in a MONTH! Since he is a boy, I'm sure he is not expressing how nervous he is but I try to think back to my first day. Let's be honest we all are nervous! So being the wonderful BIG sister that I am, I am preparing a great package to send to him. I need ideas though! So far I'm thinking some basic boring but needed school supplies, candy and a few of his favorite snacks. Some money, maybe like $20 and I might just get all $1 bills. Next, a backpack is critical, I mean it shows your style and is a SUPER important item for first day. I can remember when Jansport was IT, one year you wore it on both shoulders and the next you wouldn't be caught dead,one shoulder was the way to go. Oh then there was the satchel or across the body bag, mine was from Gap and it was oh-so cool. OK, back to the point, I need to find out what the "in" backpack is this year for him. I also know that he wants some new Vans, the old school light blue ones. Those are my ideas so far, so I need to build from there. I just want him to be surprised and feel special. I want him to know I am thinking about him and wishing him luck on his first day.